Vital Factor Authentic Herbal Mix
Awaken the Vigor in Your Body!
Would you like to balance and unfreeze the inner you? Would you like to revitalize your body, empower yourself, your loved one or even people around you with your invigorating energy and warmest greeting? Vital Factor Authentic Herbal Mix combines eight nourishing Chinese herbs to awaken your vitality from within. Now you can revitalize your body and be energetic all the time. Regain your passion right now! Start your day with confidence and stamina!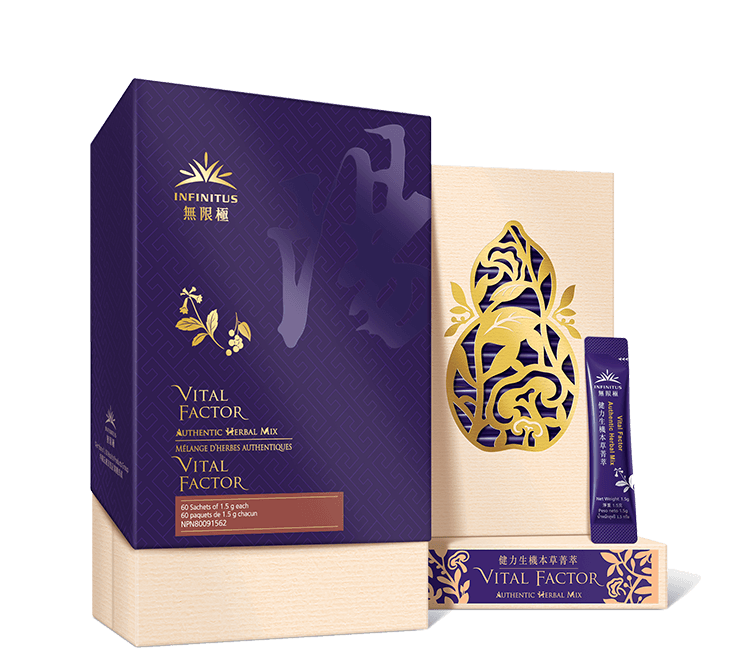 Retail Price*: CA $105.99
*The above prices are tax-exclusive
Product Highlights
Eight nourishing Chinese Buyi (boosting) herbs contained in Vital Factor, including Morinda officinalis, Walnut,Longan and Cornelian cherries etc.
Free from artificial sweetener, colors, flavors and preservatives
100% plant-based, vegan-friendly
Individual sachets in powder form - easy to carry, easy to absorb
NPN Number:
Registration Claims:
Dimocarpus longan, Ziziphus jujuba, Lycium barbarum, Rehmannia glutinosa Preparata, Juglans regia, Cistanche tubulosa, Schisandra chinensis and Cinnamomum aromaticum are combination of Traditional Chinese Medicine Ingredients.
Provides antioxidants that protect against the oxidative effect caused by free radicals.
Helps support and maintain a healthy digestive system.
Quality Assurance:
This product has passed third-party testing conducted by SGS. Also, the Infinitus Inspection Center is FAPAS-certified for proficiency in detecting heavy metals.
Size:
Each packet (1g) contains:
Key Ingredient:
Cistanche tubulosa
Medicinal Ingredients:
Inulin, Dimocarpus longan Seed aril Extract, Ziziphus jujuba Fruit Extract, Lycium barbarum Fruit Extract, Rehmannia glutinosa Preparata Tuber Extract, Juglans regia Seed Extract, Cistanche tubulosa Stem Extract, Schisandra chinensis Fruit Extract, Cinnamomum aromaticum Stem bark inner Extract
Non-medicinal Ingredients
Taurine
Adults: Take 1 sachet (1.5 g) in 100 ml of hot water with food, two times per day. Take 2 hours before or after other medications or natural health products since the absorption of these products may be delayed.