InPolysac Authentic Herbal Mix
Perfect Shield for health Against Challenges, A Guard for Family for Life!
Life is not easy especially with all of the different challenges we face every day!
You cannot easily move forward without a good health and good energy vitality!
Inheriting 5,000 years of Chinese health wisdom and incorporating 30 years of leading scientific studies experience, 3 polysaccharide were finely selected and extracted from thousands of Chinese herbs to combine active compound polysaccharides. This regulates immunity effectively, giving you a strong body full of vitality and guarding you all the way forward!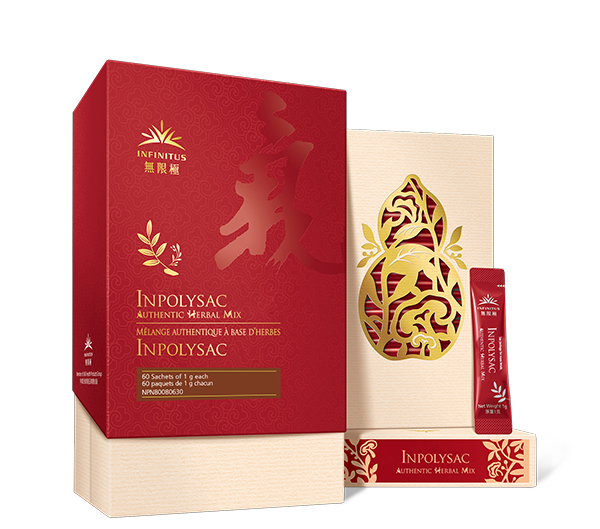 Retail Price*: CA $99.99
*The above prices are tax-exclusive
Product Highlights
Compound polysaccharides combined with multiple Chinese herbs to regulate immune system and enhance the power of defense
100% natural ingredients, suitable for vegetarians
No sugar, artificial colors , flavors or preservatives added
Passed over 241 quality tests, meets Canada quality & safety standards
NPN Number:
Quality Assurance:
Manufactured in ISO, FSSC, HACCP and GMP certified facilities, this product has passed third-party testing conducted by SGS. In addition, the Infinitus Inspection Center is FAPAS-certified for proficiency in detecting heavy metals.
Size:
Each packet (1g) contains:
Medicinal Ingredients:
Chrysanthemum x morifolium flower extract, Codonopsis pilosula root extract, Flammulina velutipes fruiting body extract, Hericium erinaceus fruiting body extract, Inulin, Lentinula edodes fruiting body extract, Lycium barbarum fruit extract, Morus alba fruit extract, Tremella fuciformis fruiting body extract, Wolfiporia extensa sclerotium extract.
Adults: Take 1 sachet (1 g) in 100 ml of hot water 30 minutes before meals, two times per day.