Dried Tangerine Peel Pu'er Tea
A taste of well-being from every sip
Sit back, relax and enjoy a soothing sip for body and mind. Infinitus "Dried Tangerine Peel Pu'er Tea" is a fine blend of quality tangerine peel and handpicked Pu'er Tea. Simply mix it with water and enjoy an exquisite taste that warms your heart and stomach.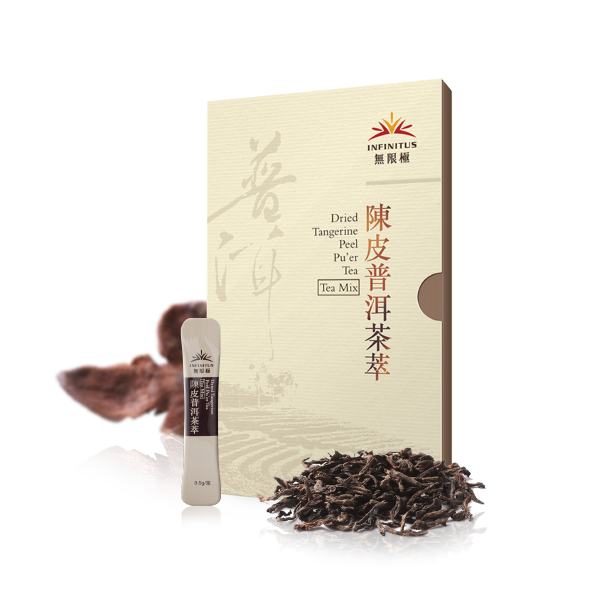 Retail Price*: CA $44.99
*The above prices are tax-exclusive
Product Highlights
Made with premium quality of Pu'er tea and Guangdong dried tangerine peel, the famous origin for sourcing the best dried tangerine peel
Use a unique extraction technology to retain active ingredients
No artificial colors, added flavors, or preservatives
Dissolve easily in water, convenient to take
NPN Number:
Quality Assurance:
Manufactured from GMP certified facilities, this product has passed third-party testing conducted by SGS and has also been Halal-certified.Also, the Infinitus Inspection Center is FAPAS-certified for proficiency in detecting heavy metals.
Size:
Each packet (0.5g) contains:
Medicinal Ingredients:
Camellia sinensis (Pu'er tea) leaf, Tangerine peel (Citrus reticulata, pericarp)
Non-medicinal Ingredients:
Maltodextrin, Modified food starch, Sugar, Silicon dioxide
Adults: Take 1 sachet 1 - 5 times per day; add 1 sachet to 200 ml hot water, stir to dissolve, and add water according to personal taste